今回は、ルーマニアのブカレスト大学出身のNF-JLEPフェロー、コンスエラ・ハラランビさんが、日本語との出会いについて寄稿してくれました。彼女は、2002年に同大学日本語日本文学科を卒業し、現在は東京の外資系企業で人材活用のプロとして活躍されています。
成人してからずっと日本に住み、心は半分日本人と感じているコンスエラさんが、11歳の時の日本との衝撃的な出会いから、初めての日本留学、日本で働く経験など、日本語と共に歩んできた人生の旅を紹介してくれました。
My Japanese Journey – a story of following your destiny
My name is Consuela and I have arrived in Japan 16 years ago, with a scholarship from NF-JLEP. My interest and love of Japanese language and culture starts from when I was 11 years old in my hometown, Constanta. At that time, I was a rhythmic gymnast for the local team and my hometown, as a sister city with Yokohama city, organized a friendly encounter championship with rhythmic gymnasts from Yokohama. At that time I could not communicate in anything else but Romanian, but I was very impressed by the Japanese people, their friendliness, generosity, and smiles. I remember even now a gift they made to us, rhythmic gymnastics balls in fuchsia and purple colors in a Walt Disney cover, along with Japanese ukiyoe coasters wrapped in Takashimaya roses paper. In 1988, Romania was still a Communist country and such things were unseen for us, pure luxury!
A few years later, after the demise of Communism, Romania became a free country and we received many influences, in music, sports and culture. On TV there were online courses for various languages, and I was avidly watching them all, since I have always been in love with languages. When I was 15, while on a winter camp with other high school colleagues, I found out my passion for Japanese language, randomly finding a textbook published in Romanian, in romaji! So, my studying Japanese started as a hobby and I decided to go for Japanese as a major at our prestigious University of Bucharest, Faculty of Foreign Languages.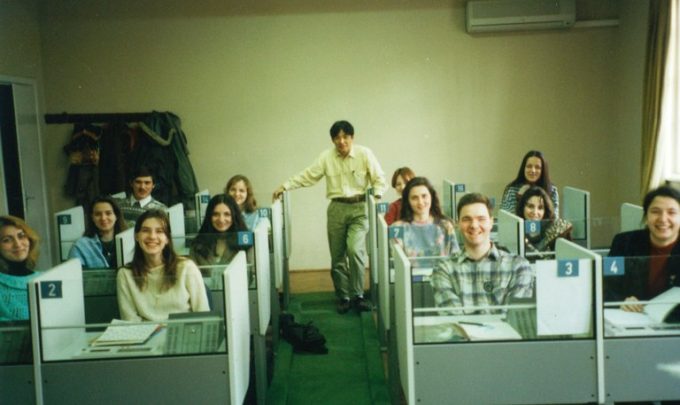 Japanese class in 2nd year of University of Bucharest
My arrival in Japan
In my 4th year of University I got the privilege to win a scholarship offered by NF-JLEP and arrived as an exchange student in the center of Tokyo, close to Mejiro station on Yamanote line. That year was a defining experience for me as a student and individual. I found it hard at the beginning to speak Japanese, despite the fact that I had studied it for years in advance; perhaps I knew more grammar and kanji thanks to our excellent Romanian and Japanese professors back home, but it's hard to speak a language when you never get to use it on a frequent basis, such as it was the case in Bucharest. However, watching Japanese TV dramas and shopping from small stores with private owners who would converse with me, played an essential role in developing my daily speaking abilities, apart from the courses in University where I did use an electronic dictionary trying to understand the concept of the class. I took many traditional classes such as kimono dressing, kodo (Japanese incense) classes as well as usual ones such as Japanese language and politics. I remember the Japanese language teacher was very strict and the class I took was the most advanced level; it was very tough, since many other students had higher level than me and came from Asian countries. I was in competition with my Czech roommate to be able to mark an A and after many hours of study and homework, we both managed to score the highest mark in a paper with no mistakes. We were so happy!
I truly enjoyed my first year in Japan and it gave me the confidence and certainty that I can improve further, therefore I wanted to extend my stay in this wonderful country, since I felt I did not master the language well enough yet, even if I had JLPT level 2. So, not long after graduating from my home university in Romania, I was back.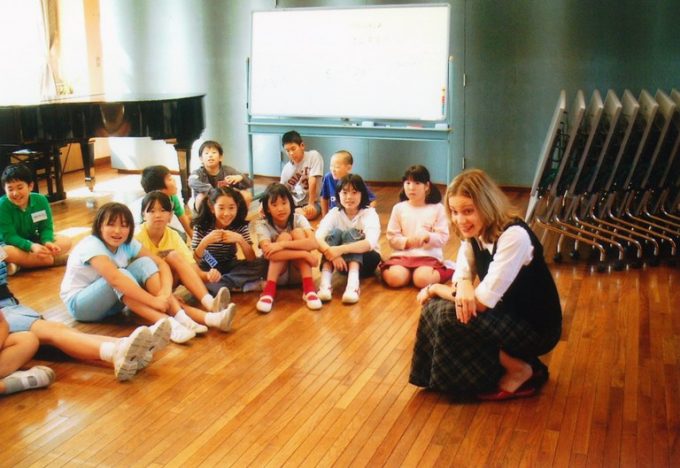 Teaching at primary school
This time I started to work as an English teacher in public schools from Shinjuku ward, which was great as I had to interact with other teachers and students as well as find my way to the schools, all in Japanese. At the same time I studied and for my JLPT level 1. After one year, I decided it's time to have a higher degree and study what I was passionate about, international relations, in Japanese, in a prestigious university. I got accepted in Tokyo University as a researcher and a year later I transferred to Hitotsubashi, which had newly opened a new section called International Public Policy, where 90% of the subjects were taught in Japanese. It was a pleasure to attend the classes and discussions with bright students and acclaimed professors, who had teaching experience at Harvard or LSE, and even if it was not easy for me to go through all the courses in a language I am not native in, I graduated and got a full time job in Human Resources industry in recruitment, where I could use my acquired skills in communication and languages to find good talent in the market for companies who were hiring in different areas.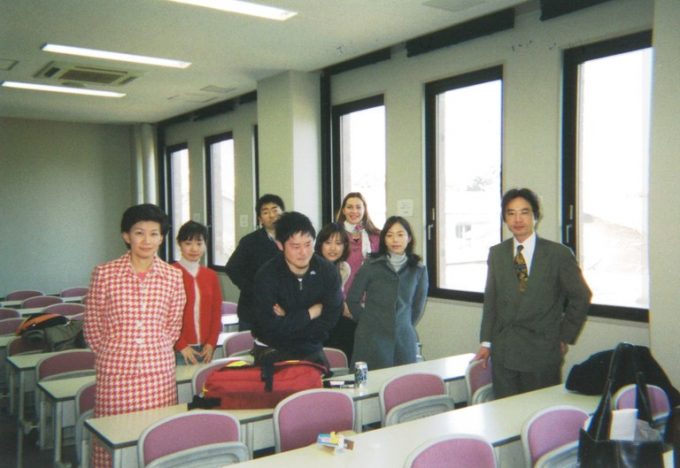 Class of International Public Policy at Hitotsubashi University
Building my career in Japan
My specialization in Michael Page was Financial Services and my clients were mainly in banking and insurance industries. Although not 100% required in my job, speaking Japanese was essential for me to break through and develop new clients, negotiate and reach agreement on various complex matters. After gaining consulting skills for 3 years, I decided to move into an in-house role and expand my HR expertise. This is how I got hired by AMS who had contracts with some of my previous clients, and I was onsite Barclays Capital for a few years managing the recruitment process for Japan. Although an international institution with many foreigners working in Japan, as I was covering Back Office functions, many of my internal customers preferred communication in Japanese and I could build relationships and trust by using their native language in our communication.
My next step was moving into Ralph Lauren as Head for Japan Recruitment. Fashion/ retail was a new challenge for me, and it came as a surprise to me finding out that all work was done exclusively in Japanese and that not many foreigners were working in this company. It was exciting to understand how the industry works and to help expand the business by hiring new talent for the new stores we opened across the country, using all the local practices and processes in Japanese. Historically there were employees who worked there for most of their life and it was not easy for a new comer to blend in if not fluent in Japanese.
In 2015, Philip Morris contacted me and hearing about the innovative ways of working as a business and the projects on talent development in HR, I was very attracted to join them and continue my learning journey in this field. After building and leading the recruitment team for Japan for a while, I got the opportunity to challenge a new position in HR outside recruitment, where I have the chance to be the main point of contact, advise, consult and support a few functions in our firm, where majority of employees are Japanese individuals who use both languages at work. Again, if one is to feel comfortable and included in all internal and casual conversations, speaking Japanese is highly recommended as it's a shortcut to build networks. It's very exciting for me to be part of a fast pace environment in a leading company as the industry transforms.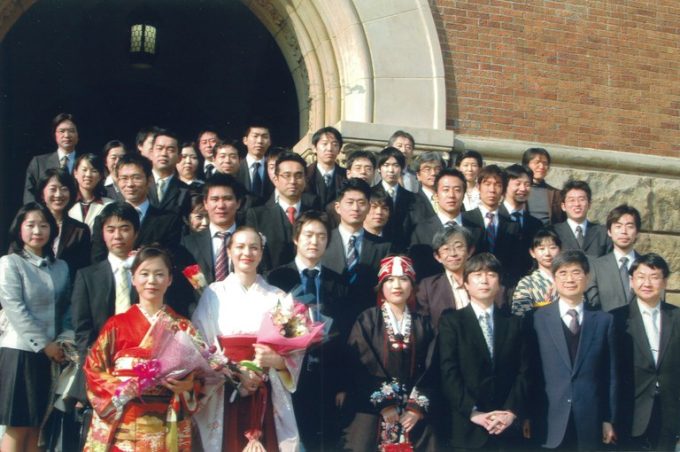 Graduation from Hitotsubashi University
As most of my adult life I spent in Japan and worked in no other country but Japan, I consider myself half-Japanese inside. I travelled extensively in Japan, and I probably know this country better than my own. I love the way people live, simple and in style, their manner, the safety and cleanliness on the streets, the quality of the food is always amazing. I never get bored to discover new things and that is one of the reasons why I continue to live and build my career here. Even if one day I may get the chance to work in another country or continent, I always know that I can come back as I consider Japan my home.